This is from hgtv.com. Great info for everyone. Looove it!
Revisit what you already own. Refurbishing existing pieces is the best way to do some inexpensive decorating.

Sandpaper, primer and paint can transform just about any piece of furniture. Don't throw something out because you're tired of the color, and don't pass up a good deal on a piece of furniture just because you don't like the finish. You can easily change it.

Shop online. Peruse your local online classifieds. There are some great deals to be found. Listings in classifieds often have photos attached, so it's easy to find exactly what you're looking for. Online closeout sites are also a great way to save money. The best part is you don't have to drive all over town hunting for things.

Learn to sew. Check for inexpensive classes in your local area. Sewing your own drapery, bedding and pillows will save you a ton of cash in the long run. By sewing your own decorative accents, you have a vast array of fabrics to choose from. Plus, sewing can be a lot of fun.

When choosing a paint color, pick one shade darker or bolder than what you feel is safe. Go out of your comfort zone, and you may be pleasantly surprised. Painting is inexpensive and easy to apply, so experiment.

If you're short on space, purchase multi-purpose furniture pieces. One of my favorite space savers is the ottoman/coffee table/storage unit combination. It provides seating for company, a place to set down your remote controls and drinks on trays, and also opens up to provide storage.

If you have the space to do it, pull your sofa off the wall. A nice sofa console placed behind the sofa will give your room more interest and a division of space.

Avoid the catalog look. I know it's tempting to buy an entire matching living room or bedroom set from one store because it's easy one-stop shopping. But to personalize your space, buy unique pieces from different places. For example, pair a new sofa with a really cool, vintage coffee table from your local thrift store.

Don't underestimate the power of draped window treatments. Hang your drapery panels wider and higher than the actual dimensions of the window. You'll create the illusion of a bigger window and make your room feel larger and more grand.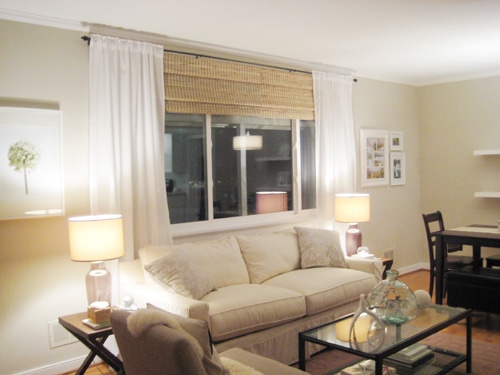 (YoungHouseLove.com)

Keep your backdrop (walls and furniture) neutral. This is a great tip for those who like to switch up their color schemes with pillows, candles and other small accessories. You can do this as often as you like to suit the time of year or your mood. Neutrals have come a long way, although black, white, gray and beige tones are always good standards. Don't forget about the new neutrals, which are basically the lightest and most muted version of any color.